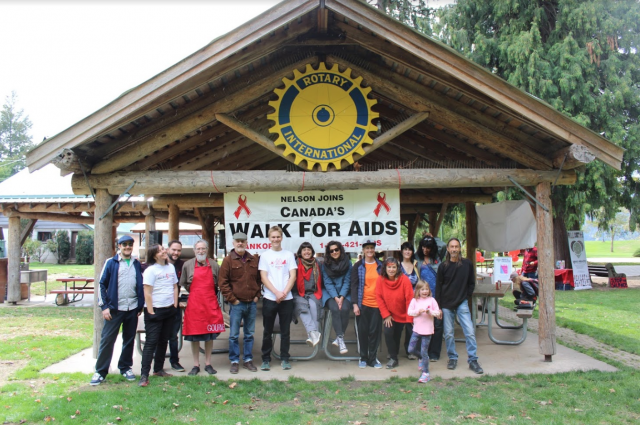 Each year, in August or September, ANKORS hosts the AIDS Walk for Life fundraiser (in the form of a march, barbecue, online silent auction, and/or other fundraising activity).  This event is to honour and empower people in our community living with HIV and the ones who love and care for them, and memorialize those we have lost.
Keep an eye out on this page, our social media, and the local news for information about our upcoming 2020 AIDS Walk.
The AIDS Walk for Life is ANKORS' annual fundraiser for our Foundation Fund: money that directly supports people with HIV and Hepatitis C in the Kootenays with life and health expenses. This fund is very important to the communities ANKORS serves, show up and support us!
When you donate to the ANKORS Foundation Fund, 100% of your gift goes directly to people in the Kootenay / Boundary Regions living with HIV/AIDS and/or Hep C. Your donation will support someone accessing important medical treatments, travelling to see a BBI specialist, or otherwise access very needed care.
Tax deductible receipts issued for donations over $10.00.
First AIDS case in Canada
The first case of AIDS in Canada was diagnosed retroactively in Montreal. The first AIDS diagnosis to be reported in Canada in real-time was not until 1982.
World's first AIDS Walk
On July 28, 1985, AIDS Project Los Angeles hosted the world's first AIDS Walk hoping to raise $100,000 for AIDS research. They were surprised and excited when the event actually raised $673,000.
Canada's first AIDS Walk
Canada's first AIDS Walk was held in Vancouver, BC, organized by BCPWA (British Collumbia People with AIDS), also known as Positive Living BC until it's closure in March 2020.
First ANKORS AIDS Walk
ANKORS hosted Nelson's first AIDS Walk and has been proudly hosting them annually each year to raise money, awareness, and empowerment for people living with HIV.
ANKORS AIDS Walk in the News
Here's a brief look at what the AIDS Walk has been up to in the Kootenays for the past few years.